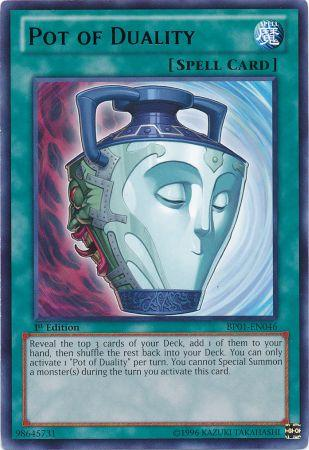 This card is commonly considered to be a staple in most decks. Its ability states that you can mill the top 3 cards of your deck then pic one of those cards and add it to your hand. the only catch is that you cannot special summon the turn you use the card and you can only use it once per turn. First of this issue the condition that you cant special summon has always been a problem. But there are some ways you can go around this condition if you must.
1. You can use cards that state you can normal summon extra monsters per turn such as
Ultimate Offering
, the light thunder type monsters known as
Mahunder
or
Pahunder
or any others like that.
2. You can simply stall for next turn using traps or
Quick-play Spells
.
Secondly, there are certain times when you can use Pot of Duality. These conditions are:
1. If you have special summoned this turn you cannot activate Pot of Duality
2. If you used Pot of Duality once already you cannot use it again this turn.
3. If you special summoned this turn and you opponent activates certain
Counter Traps
such as
Solemn Judgement
or
Solemn Warning
and he says he is negating the summon of the card you can activate Pot of Duality that same turn. Simply because the card negates the summon of the monster. Meaning that you technically never summoned it.
Lastly there are certain cards that can either prevent Pot of Duality from being used or negate its effects all together. these kinds of cards are:
1. Cards that can negate the activation of other cards like
Solemn Judgement
2. Cards that can prevent or negate the activation of effects that allow you to add cards to your hand such as
Thunder King Rai-Oh
or
Deck Lockdown
Well that is all for this weeks Deck Lesson of the Week keep you eyes peeled for the next one until next time.

_________________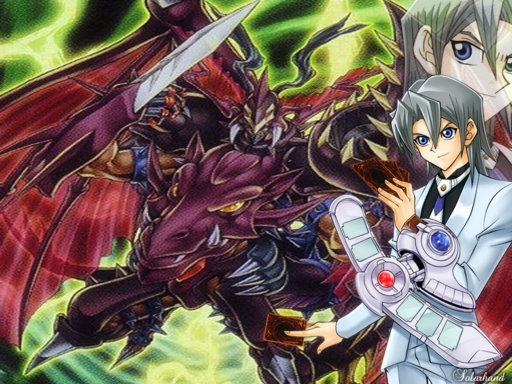 Give it your best!